Podcast Listeners are Engaged Listeners
Welcome to The Yard, a blog by Backyard Media that explains the podcast industry and podcast advertising.
We've taken a look at the data about podcast listener engagement, as well as the special case of podcast "super listeners". But how do these numbers about podcast listeners manifest themselves for actual podcasters, and consequently for podcast sponsors? Consumption rates can only tell us so much about how podcast listeners are different compared to consumers of other digital media. Thankfully, we've got a number of excellent partners here at Backyard Media. We spoke to two hosts, Briahna Gray and Barry Lam, who run some of Backyard Media's podcast partners, about their experiences with listener engagement and feedback. Here are some of their insights.
Listeners are eager to give positive feedback, both online and in person
Listeners of podcasts are willing to go beyond simple iTunes reviews when they find a show they enjoy. Both hosts we spoke to say that they've received progressively more feedback since they started their shows - Gray started her show in 2016, while the first season of Lam's show ran during the spring of 2017.
Briahna Gray of the politics and culture podcast Someone's Wrong on the Internet (SWOTI) says that listeners have never been afraid to contact her to share their thoughts. She recounts having received "a good amount of email traffic and YouTube posts from the beginning". Gray also posts her podcast episodes on YouTube, giving her another view into who her listeners are as well as more immediate feedback in the form of comments.
Gray notes that beyond iTunes reviews, YouTube comments, and email correspondence, she has been invited to be a guest on a variety of podcasts. She says these appearances have come about because hosts of those podcasts found her show and became regular listeners. Gray has appeared most recently on the Michael Brooks Show, Struggle Session, and The Way with Anoa. She's also proud that a number of well-known journalists are among her listeners, including Chris Hayes of MSNBC and Zaid Jilani of The Intercept.
Co-Host, Someone's Wrong on the Internet (SWOTI)
In speaking with Gray, we can see this contact with other podcasts and feedback from listeners comes from her listeners' commitment to her podcast and their tendency to share it widely. This level of shareability is not uncommon for some podcasts, but in the broader digital media landscape it's unique - the Knight Foundation report we covered in our post on super listeners found that a full 96% of podcast listeners said they shared podcasts with a friend, and that more than 50% of respondents said their main source of new podcasts recommendations from personal recommendations (friends, family members, or podcast hosts)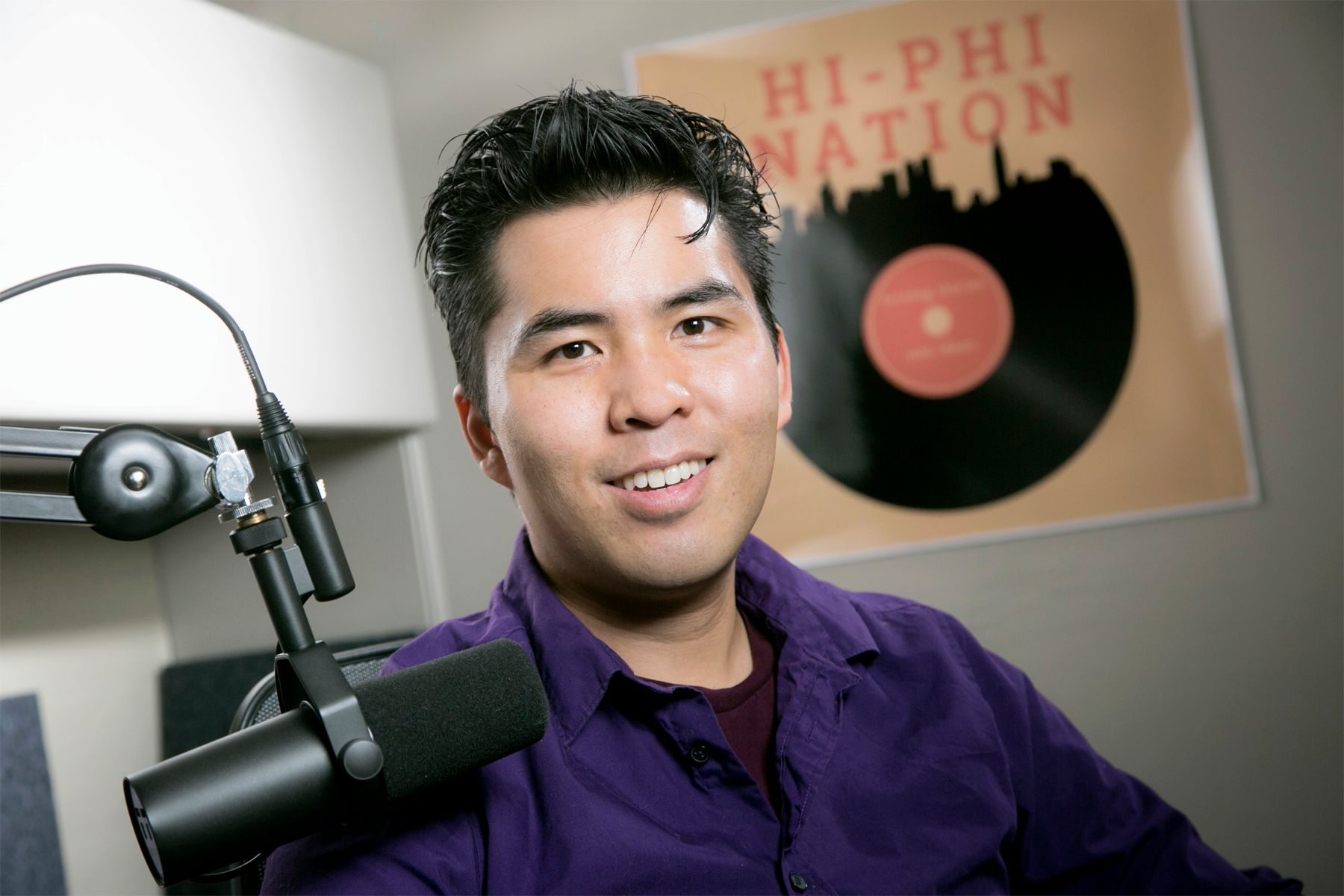 Barry Lam has experienced both listener feedback as well as professional recognition through various outlets, namely The Guardian and Slate's Culture Gabfest. As the host of Hi-Phi Nation, a podcast that mixes narrative storytelling with philosophical concepts, he says he has received plenty of feedback since he started. "Colleagues in philosophy and fans of the show have been writing to me throughout the process telling me how much and why they love the show," Lam says.
One way podcasters often meet listeners is by hosting a live event for their podcast or arranging a listener meetup. Lam is an assistant professor of philosophy at Vassar College, and he finds that the academic conferences he attends often serve as stand-ins for listener meetups, as many Hi-Phi Nation listeners happen to be philosophy students or work in academia. "When I am at conferences, there will occasionally be someone who has listened to the show and they thank me for making it" says Lam. "I'm more often than not speaking at venues or giving talks to try and get listeners."
Lam has been a professor of philosophy for 10 years, and he finds it striking the audience he's been able to attract to his podcast, and that listeners are so effusive in their appreciation for his work. "The thing I like most about podcasting is the wide listenership and the willingness of listeners to tell you how much they appreciate what you're doing," he says.
Listeners enjoy podcasts that add value to their lives and when they feel they have a connection with the host
A common thread in our conversations with both Gray and Lam was how their listeners were drawn to their podcasts because of what they saw as great content.
Gray believes that SWOTI listeners enjoy the podcast because it offers them something new: a casual atmosphere among friends combined with discussions of serious topics that have shown up in news headlines. "People really enjoy the intimacy of my relationship with Joe," she says."We have fun with each other and it animates what are otherwise dry topics from time to time."
"I also think that podcasts are strangely intimate," Gray continues. "You really do feel like you're in a relationship with the podcaster. Which is why I think my relationship with Joe resonates with people. Listeners feel like they're a part of our 15 year friendship."
We've touched on how listeners often feel like they know a podcast host personally. But great content is a must for any podcast hoping to attract and maintain an audience of engaged listeners. Gray identifies a political-cultural niche that her podcast SWOTI occupies: "Our show is unique in its blending of pop culture and political topics, and the degree to which we are able to bring our personal selves to the conversation without losing the rigor of the discussion." She sees the show as a longform discussion of difficult issues in an intelligent way. "We actually 'show our work' and reason out loud on the podcast, in a way that I think is transparent and which people find intellectually engaging."
Gray identifies their season 2 finale as an example of this intellectual work. In that episode, she and her co-host Joe Kunhilee interviewed a group of politically unusual people about the politics in their communities, including a self-described "liberal hillbilly". She says that the email and social media feedback from listeners about that episodes was particularly thoughtful, because the content of the interviews was unlike what her listeners had heard elsewhere.
Barry Lam of Hi-Phi Nation says he's found that listeners like his show because it's smart yet doesn't hand-hold, and that it pushes them to think about difficult philosophical concepts they may have never considered. "I've heard from most listeners and through the critics at Slate Culture Gabfest that the feature they like most about the show is that it is story-driven but intelligently presented, no cutesy gimmicks and so forth." He says, referring to the long-running pop culture podcast.
Having met some listeners in person, Lam typifies his audience as "people who really like to learn something interesting and a bit difficult, but like to do so without being bored, and don't want to feel condescended to...[people] who like smart things and have aesthetic sensibilities." He also says his audience are more often than not highly educated, read books and consume news, and are politically engaged.
Podcast listeners are consistent with their listening across podcast episodes
Finally, both podcast hosts confirm that listeners consistently listen to every episode consistent in their listening habits. They see this in their podcast download numbers broken down by episode. This matches what we know about podcast listening habits - podcast listeners download nearly all episodes of a podcast, and 85% will listen to most if not all of an episode once they've downloaded it..
Lam says that some Hi-Phi Nation episodes do show a higher number of downloads when they're about certain subjects: "higher downloads track topics more concerned with human interest than, say, science. But they are consistent in that most people who listen to one episode listen to many others." Hi-Phi Nation's format weaves one philosophical idea through a single episode in the form of personal stories.
This finding matches what we see across all of Backyard Media's podcast partners - once listeners start following a podcast, they tend to consume all subsequent episodes.
We hope this makes even clearer how engaged podcast audiences can be, and how this level of commitment can be so valuable to podcasters and podcast sponsors alike. A special thank you to hosts Briahna Gray and Barry Lam for sharing their insights this week.
Want to learn more about advertising with Backyard Media's podcast partners, like SWOTI and Hi-Phi Nation? Get in touch with us here.
Backyard Media is a marketplace for podcast advertising. We connect content creators of all shapes and sizes with awesome sponsors, providing them with the resources they need to do what they do best. Everyone wins.